This open letter to the girls of the world is part of the "Girl Rising" project. CNN Films' "Girl Rising" documents extraordinary girls and the power of education to change the world. Watch it at 9 p.m. ET June 16 on CNN.
A letter to girls from the Queen of Jordan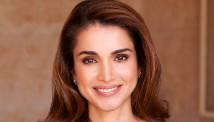 Queen Rania of Jordan
Her Majesty Queen Rania Al Abdullah is queen of Jordan and has been an advocate for children's education for years in her country, across the region and around the world, working with such groups as UNICEF.